dyslexia treatment centerbrand identity, editorial, poster & packaging design
Logo.
Business cards.
Tote bag.
Essential stationery for office.
Website.

For my thesis(2016-2017) at my BA in Graphic Design, I designed a Visual Communication Identity for a Dyslexia Treatment Center based on the Davis Dyslexia method, which claims that dyslexia is a gift rather than a problem. This project is divided into four parts that will be demonstrated below.

The first part is the branding. My primary intention was to give prominence to the formal, and alongside fun image, a creative educational center can uphold. The name of the brand is "ΔΙΑΠΛΑΣΥΝ", (eng. conformation). The rectangle symbolises the reliability of the method, and the two gaps demonstrate the impression of freedom.

The secondary element of the brand, which applies to the rest of the brand identity, is the slope orange line among the straight lines showing that being different is fun and creative. These lines don't have a decorative role only but also help organise well the information of many stationary elements of the brand.


Book cover.
Chapter 2.0.
Chapter 12.3.
Table of contents.
Chapter 2.1.
The second part of the project is the editorial design. The design shares the same aesthetic because it is a part of the treatment method. The book cover is based in the slope orange line design to accompany the title of the book "The Gift of Being Different". The elements helped to prioritise the information of my book layout. The final touch was to make illustrations for every chapter that symbolise the meaning of each chapter's title in an abstract way.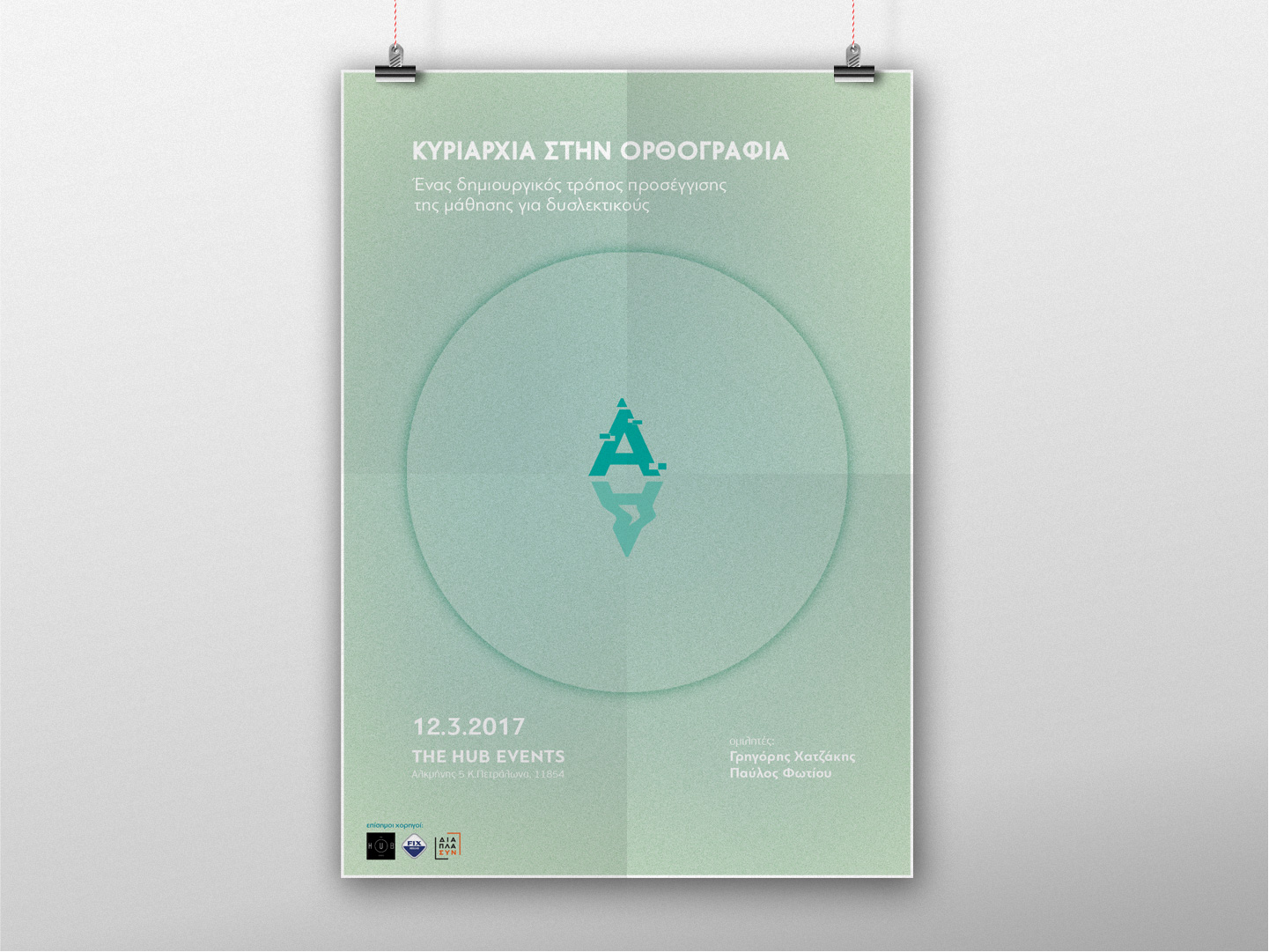 Poster for 'spelling difficulty'.
Poster for 'attention difficulty'.
Poster for 'mathematics difficulty'.
Poster for 'reading difficulty'.

The third part of my thesis project was to communicate the center's public events, mainly workshops. I made four posters, each for a difficulty that a dyslexic person can face and overcome. The illustrations demonstrate each problem and solution in an abstract and artistic way.


Packaging for plasticine.
This method claims that the plasticine is the medium that can help you conquer the image and grasp the meaning of every word. This project's objective is to design the plasticine's packaging that will be provided to every person attending the treatment. The packaging's logo is 'ΕΝΑΥΣΜΑ'(eng. Signal to start) and resembles handmade typography to match the plasticine concept. The artwork is an abstract illustration that symbolises the freedom to be creative and craft your words with your very own images.

Davis Dyslexia method_picture_01.
Davis Dyslexia method_picture_03.
Davis Dyslexia method_picture_05.
Davis Dyslexia method_picture_02.
Davis Dyslexia method_picture_04.